Krystal and I devoured about 5 avocados last night (purchased in the self check out section from Wal-Mart causing the old senile man running the checkout to probably have aneurysm)
Guacamole.
Avocado slices with sugar (which are apparently a big hit in Brazil... or something. Krystal loved it. I was meh on the taste).
And the big guns.
Baked Avocado Fries.
Krystal got the idea from pinterest.
You can go here to get the original recipe.
I followed the recipe pretty much to a T, except that I made some substitutions. First of all, we are a gluten free household for the most part, and I don't have Panko (Japanese bread crumbs) just hanging around the house. In fact, since Annie ate the last can of real bread crumbs, all I had was GF Corn Flake crumbs from the last time I made Michael GF fried ravioli. And since I was already making this recipe partly GF, I went ahead and used corn starch instead of flour.
I followed the directions and this is what I got before I put them in the oven (Note: the original directions say to put them on a wire rack. I don't have a wire rack, so I just used parchment paper and a cookie sheet. I did turn them halfway through...)
Don't the look delicious?



So after cooking these things for 20 minutes (20 minutes I'll never get back, because we were watching The Hobbit), I got these: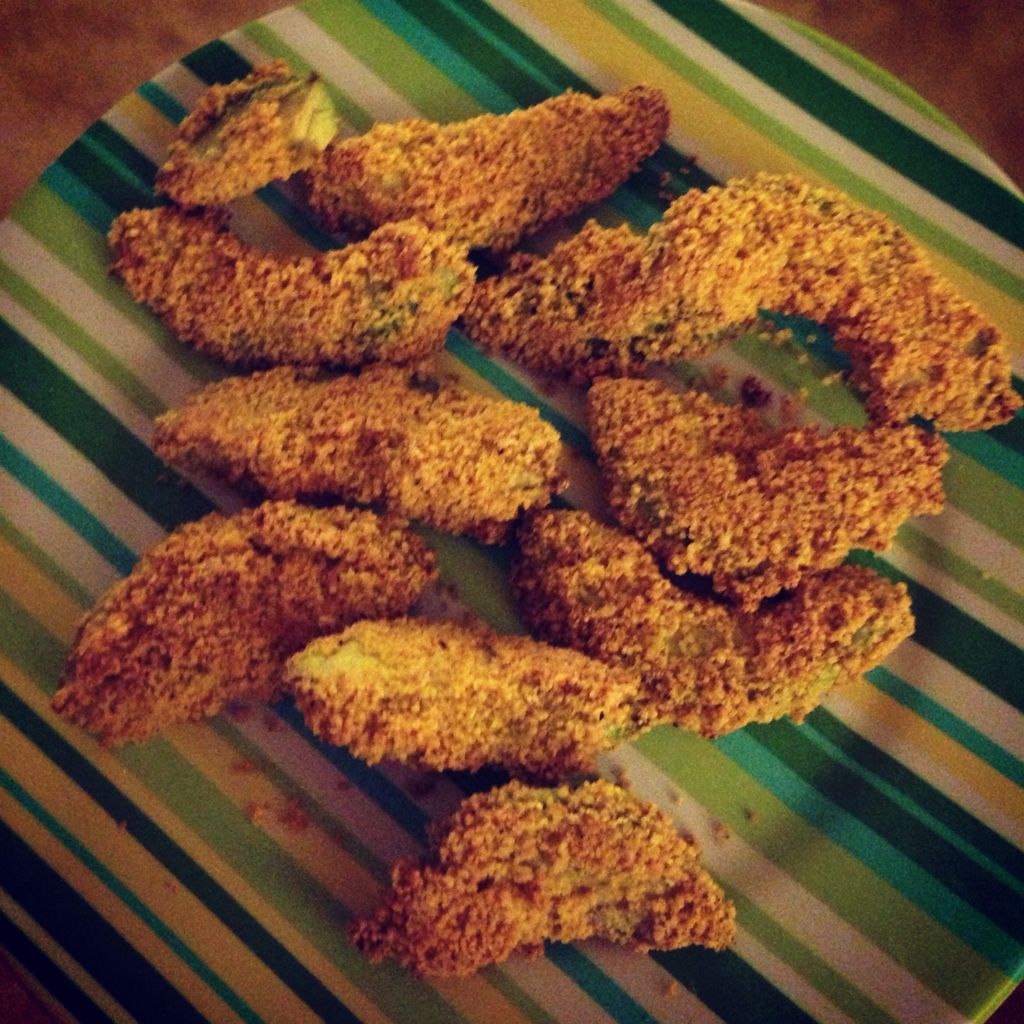 Totally instagramed. And they look delicious!
The original pinterest post suggests that you use a dipping sauce with them, but we didn't have anything.
Final verdict: Interesting. Krystal liked them more than I did. I was still slightly puzzled by the fact that I had just made avocado fries. To me its like frying butter. Flat out wierd.
-Jessica G.
Recipe for GF Baked Avocado Fries
Ingredients
3 ripe (but not overripe) avocados
½ cup cornstarch
Salt and black pepper
2 eggs
1½ cups cornflake crumbs
1 Tbsp butter or margarine, melted
½ tsp garlic powder
½ tsp onion powder
½ tsp paprika
½ tsp salt
¼ tsp black pepper
Instructions
Preheat oven to 450 F. Line a baking sheet with foil and place a wire rack on the sheet (or line a pan with parchment paper). Set aside.
Slice avocados lengthwise – for three avocados, you'll get 20-22 fries.
Set up three bowls in an "assembly line". In the first bowl, place the ½ cup of flour and add a pinch of salt and a pinch of black pepper.
Crack the eggs into the middle bowl and beat lightly.
In the last bowl, combine the cornflake crumbs and melted butter and mix with your fingers to coat. Add garlic powder, onion powder, paprika, salt, and pepper and stir to combine.
Dredge each avocado slice through the flour, and then the beaten egg. Coat thoroughly with the crumb mixture and place on the wire rack.
Bake for 20-25 minutes, until crumbs are lightly browned. Cool for about ten minutes and serve with dipping sauce of choice.
Notes:
Not Gluten Free? Go here for the
original recipe
. If you are on pinterest you can also do a generic search.
--------------------------------------------------------------------------------------------------------------------------------------
Maybe I'll do something cool.