Many moons ago (almost 20 to be exact) my dad brought home a new family member. I remember this event very clearly, because it coincided with the date of kindergarten coronation.
For those of you who don't know what this is, it was an event that my k-8 school had. We would vote on 4 kids from each grade level... a prince/princess and duke/duchess and then 8th graders would have a bunch of princes and princesses and then someone would be named king and queen. This was a huge deal, and it was an event that happened in mid to late May. I was in this twice. I was duchess of Kindergarten and Princess of 2nd or 3rd grade (I can't remember the grade, but I do know that I had the hugest crush on the guy Joseph that was my prince, and I was convinced that him I were going to get married. That didn't happen.
Anywho. My dad brought home a new family member. He looked an awful lot like this friend (not mine... just some picture I found on google. I'll have to go digging for pictures.)
I also remember getting in trouble from my mom, because I ran outside in the humid, May, weather with my heair fresh from the hot rollers. I didn't see a big deal about it then. But I do now. My hair hates to be curled and my mom had a thing with little girls and curly hair. Just ask my sister.
Gah. I keep getting off on tangents.
I promise. There is a point to this story.
Our new family member had been christened with the name Rasputin. Thank God this dog was a boy, because Rasputin was the name that my dad had set aside (so they told us... I still don't know if this is fact of fiction) for my sister and myself had we been boys.
He was a fabulous dog. He had some questionable hobbies (traveling around the neighborhood, eating aluminum siding, etc) but he was wonderful.
Dad and I used to take him and Bear/Bandit/any other walking size dog we had at the time on walks. And we would walk in the dark. It wasn't safe. But it was a great time. Mom was an avid Black Friday shopper and JC Penny and other stores used to give out free gifts as you entered the stores. One year we got a blinking red reindeer nose. After Christmas, it got repurposed into a blinking safety light for Rasputin. He was so trusting that he would let us put anything on him (cheerleader outfits included...) and he wore this light on our walks until they wore out. Then, mom ordered/found some actual, legit flashing safety lights that clipped to the collars, and each dog got one.
It was awesome.
Point is, I had forgotten about those lights.
Until today.
During my daddy-daughter-other daughter-granddaughter date tonight, Dad was rummaging through one of end tables in the living room and found one of those blinky lights.
And attached it to Maggie.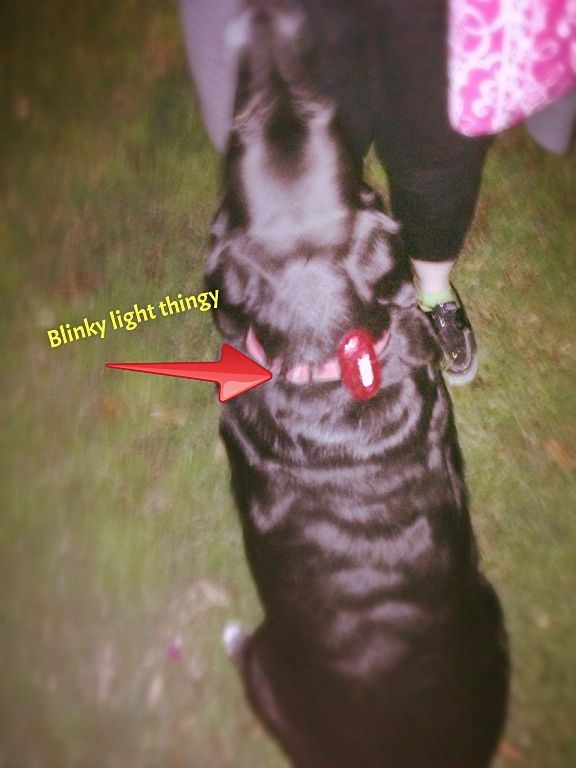 Look Mags, You're FAMOUS!
Still works.
Sorry for all the crazy directions that I went with this post. I am sure I am going to read it tomorrow and be all, seriously, what was I thinking. But whatever. I hope you enjoyed!
-Jessica G.